SoftAid Review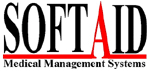 About SoftAid
Established in 1992, SoftAid has been developing and producing medical billing and practice management software for practices of all specialties and size. Their software consists of online solutions that are Windows-based and can be securely accessed from any Internet connection. Headquartered in Miami, Florida, SoftAid's solutions are comprehensive and easy-to-use.
The Medical Office
The Medical Office is a comprehensive practice management and medical billing solution that is designed to streamline practice workflow and everyday administrative tasks. Four versions of Medical Office are available from SoftAid, so practices of any size and specialty will be able to find a solution that is tailored to fit their unique needs. The solution optimizes a practice's productivity by automating tedious administrative tasks.
Share data with other Windows-based applications
Patient Management
View a patient's account history
Wide and varied search options
Multiple system shortcuts
Ambulance Services
Claims Processing
Billing Customization
Managing payments
View unpaid claims
Multiple scheduling views
Create claims directly from scheduler
Access patient file information
Filter appointment option
Schedule recurring appointments
Over 325 preloaded reports available
Customizable reports
Create EDI claim remittance notices
Create labels and form letters
Billing and accounts receivable
ASP service
The Medical Office Records (EHR and EMR)
The EHR software solution further improves office workflow by minimizing paper-based systems and providing patient information and records at the click of a mouse. The comprehensive solution is both efficient and easy to use and enhances patient care by following the status of patients from check in to check out.
Customizable Templates
Easy navigation menu
Interfaces to external software packages
Communicates with office management software
The Tracking Board—joins information from multiple sources to a single screen
View, print, e-mail chart s
Record and sort transcriptions
Internal Messaging
Voice Recognition Software
Automated E&M Coder
Encounter/SOAP Notes
Differential Diagnosis
Patient Administration
Consultations and Lab Testing
Prescription Writing
Document Management and Image Scanner
The Medical Office Scheduler
The Scheduler is the stand-alone form of the scheduler included in every Medical Office version. It has the same capabilities as the scheduling features previously mentioned, including the ability to create and edit appointments easily and set up follow-up notices concerning patient-related issues. The Scheduler aims to ease the pressure on practice staff to oversee appointment and scheduling issues by electronically administering the system.
Certifications
SoftAid practice management and medical billing solutions are HIPAA compliant.
The Bottom Line
SoftAid's Medical Office software solutions include quality practice management, medical billing and EHR systems that enhance practice productivity and patient care. The company was the first medical software vendor to run on a Windows-based system that is easy-to-use and comprehensive.